Whether one can find cheap houses for sale in Skopelos island is, in fact, a generalized question that requires additional specification.
As in all other areas in the world, significant role in the price of a property play:
The location of the property
The view
The size of the property
Creature comforts provided
Accessibility to a local market for basic needs
The condition of the property
Finally, it all comes down to what each one would describe as an ideal home and what they would be willing to pay for it. Let us see each parameter and the role it plays in determining its sale price.
Property location
Location is of critical importance when selecting a place to live or even spend your holiday. Skopelos Island offers a variety of options to satisfy even the most demanding buyer.
Skopelos Town offers easy access to shops, restaurants and nightlife. This beautiful and traditional settlement, protected by strict laws in order to retain its authenticity, offers many houses for sale as well as cottages, land and commercial properties (hotels, villas, restaurants and bars). As Skopelos Town is one of the island's most popular real estate locations, prices are expected to be higher.
The rural areas Glossa and Loutraki are also widely preferred for their amazing views, their traditional character and their rich vegetation.
Also, please, keep in mind that for those who seek peace and require more distance from noise and crowds, Skopelos is the ideal island. Its large number of beaches and small settlements as well as its dense mountainous regions will leave you speechless.
View of the property
A nice view is always a great plus, sometimes "paid in gold". In Skopelos you will find properties of breathtaking views at reasonable prices.
But what defines a great view, you may ask?
The answer is simple: the client! Some would argue that there is nothing like having panoramic sea view while others would choose the traditional cobbled-stone alleyways or a view of the island's lush forests.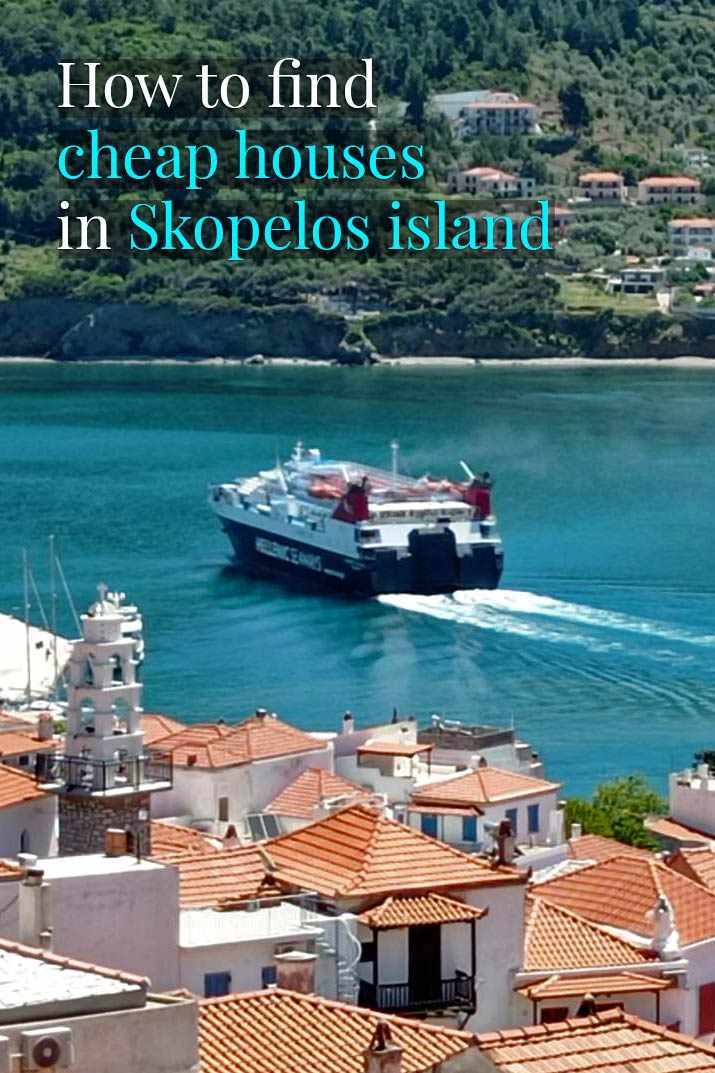 Property size
Skopelos properties vary in size, starting from one room rural houses (cottages) or town studios to two-storey villas with many bedrooms and bathrooms.
Property maintenance is an additional factor that, over the years, might prove challenging. Depending on the available budget, one must choose wisely.
Creature comforts
The fewer creature comforts, the cheaper the property would be. Swimming pool, furniture, air conditioning, parking space, fireplace, central heating and others may cost you dearly in some cases.
Accessibility to shopping areas
This is a very controversial factor since easy access to super markets, bakeries and other shops are a huge plus for some and a great disadvantage for those who value their privacy.
Statistically speaking, more people would choose to have easy access to shops, which makes Skopelos Town even more popular, from a real estate point of view.
Property condition
Buying a new property will save you time and headaches. Buying a property that requires renovation will give you the home you have always been dreaming about.
We, at Skopelos Realty, specialize in house renovations and can make your dream come true. Our services also include house maintenance. Keeping your new home in great condition is, by far, the cheapest long term property value solution. Do not hesitate to call us at +30 6932 415 130 (also at Viber). Please, keep in mind that internet connection is not optimal and there might be issues. Alternatively, you may fill in our contact form and we will get back to you within less than 24 hours.
Conclusion
Choosing the right holiday home is not an easy task, especially when there are so many properties to choose from.  Natali our head realtor will show you what suits best to your requirements and your budget.